Product Description
Product number 01431
Super Ubiquinol CoQ10 with Enhanced Mitochondrial Support™ is formulated with ubiquinol, a highly bioavailable form of coenzyme Q10 nutrient, and augmented with the adaptogen PrimaVie® shilajit, clinically shown to further increase CoQ10 absorption, promote cardiovascular health, and help restore youthful cellular energy.
Benefits at a Glance:
• Ubiquinol CoQ10 absorbs up to 8 times better than ubiquinone CoQ10
• Promotes cellular energy production in heart, brain and muscle tissue
• Provides superior cardiovascular and antioxidant support
• PrimaVie® shilajit enhances mitochondrial CoQ10 absorption
CoQ10 for heart health and cellular energy
CoQ10 (or coenzyme Q10) is an essential nutrient your body requires for healthy mitochondrial function, a process that produces body energy at the cellular level.1 Because of this, it makes sense that CoQ10 is concentrated in high-energy organs such as your brain,2 liver, kidneys, and (most importantly) your heart.3,4
CoQ10 also has powerful antioxidant properties, protecting important proteins5 and mitochondrial DNA6 from oxidative damage.1 Unfortunately, CoQ10 levels in your body deplete over time.
Natural and unnatural causes of CoQ10 depletion
As we age, CoQ10 levels in our body naturally decrease. What's more, popular statin drugs which are used to lower cholesterol, can also deplete CoQ10 levels in the blood and potentially in tissue.7,8
And while statins have been shown to reduce plasma CoQ10 by nearly 40%,9 the normal aging process may be even worse: reducing CoQ10 levels in the heart muscle wall by as much as 72%.10
Improved bioavailability: ubiquinol and shilajit
The traditional form of CoQ10, ubiquinone, is difficult for the body to absorb. But another form, ubiquinol, has been shown to absorb up to 8 times greater than ubiquinone. That's why Life Extension offers a highly bioavailable form of ubiquinol CoQ10 in a patented delivery system with superior absorption levels.11
Shilajit enhances CoQ10 effectiveness
PrimaVie® shilajit is an adaptogen shown to promote mitochondrial metabolism, helping mitochondria convert fats and sugars into ATP — the main source of cellular energy.12-17 When combined with ubiquinol CoQ10, it has been clinically shown to double levels of CoQ10 in the mitochondria.18 Shilajit prolongs CoQ10's efficacy at the cellular level by stabilizing it in its ubiquinol form19,20 and facilitates greater cellular energy output by improving delivery of CoQ10 into the mitochondria.12-17
In middle-aged mice, ubiquinol was up to 40% more effective at slowing measurements of aging compared to ubiquinone.21 In another preliminary study in mice, the combination of CoQ10 and shilajit produced a 56% increase in cellular energy production in the brain — 40% better than CoQ10 alone. Muscle tissue saw a 144% increase, which was 27% better than with CoQ10 by itself.22
Breakthrough longevity and cellular energy formula
Research supports the value of this unique combination of ubiquinol CoQ10 and shilajit. That's why we've created Super Ubiquinol CoQ10 with Enhanced Mitochondrial Support™, to create a powerful synergy that supports heart health and youthful cellular energy production better than CoQ10 alone.
For younger consumers or people with no known heart health issues, we recommend a daily CoQ10 supplement with at least 100 mg of ultra-absorbable ubiquinol CoQ10. For older customers or those with heart health concerns, we recommend 200 mg of ubiquinol CoQ10 per day. We also offer 50 mg CoQ10 supplements for those who wish to take a lower dose or who wish to spread their CoQ10 intake throughout the day. This supplement contains 200 mg of ubiquinol CoQ10 per softgel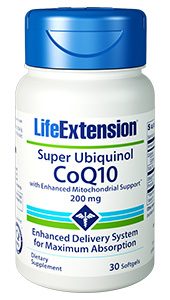 Supplement Facts
Supplement Facts
Serving Size 1 softgel

Amount Per Serving

Calories
10
Calories from Fat
10
Total Fat
1 g
Ubiquinol (as Kaneka Ubiquinol™)
200 mg
PrimaVie® Shilajit fulvic acid complex
200 mg
Other ingredients: sunflower oil, gelatin, glycerin, beeswax, purified water, annatto color.
Non-GMO
PrimaVie® is a registered trademark of Natreon, Inc.
Q+®, Kaneka Ubiquinol™, and the quality seal™ are registered or pending trademarks of Kaneka Corp.
Dosage and Use
Take one (1) softgel with food daily, or as recommended by a healthcare practitioner.
Warnings
KEEP OUT OF REACH OF CHILDREN
DO NOT EXCEED RECOMMENDED DOSE
Do not purchase if outer seal is broken or damaged.
When using nutritional supplements, please consult with your physician if you are undergoing treatment for a medical condition or if you are pregnant or lactating.
To report a serious adverse event or obtain product information, contact 1-866-280-2852.
References:
1. Mol Biotechnol. 2007 Sep;37(1):31-7.
2. Neuropsychiatr Dis Treat. 2009;5:597-610
3. J Pharm Bioallied Sci. 2011 Jul;3(3):466-7.
4. Biofactors. 2003;18(1-4):91-100.
5. Biofactors. 1999;9(2-4):337-43.
6. Zhonghua Er Bi Yan Hou Ke Za Zhi. 2004 Dec;39(12):707-11.
7. Mitochondrion. 2007 Jun;7 Suppl:S168-74.
8. Cardiol Rev. 2005 Mar-Apr;13(2):76-9.
9. J Clin Pharmacol. 1993 Mar;33(3):226-9.
10. Biofactors. 1999;9(2-4):291-9.
11. Int J Food Sci Nutr. 2006 Nov-Dec;57(7-8):546-55.
12. Ghosal S. Shilajit in Perspective. Alpha Science International Limited; 2006.
13. Kaneka Corp. Unpublished study. 2007.
14. Sci Total Environ. 1987 Apr;62:347-54.
14. Environ Sci Technol. 2002 Jul 15;36(14):3170-5.
16. Environ Sci Technol. 2002 May 1;36(9):1939-46.
17. Environ Sci Technol. 2009 Feb 1;43(3):878-83.
18. Systemic CoQ level in animals: Part II. Unpublished study. Natreon, Inc.; 2007.
19. Pharmacologyonline. 2009;2:690-8.
20. Electronic Journal of Biotechnology. 2008 Jul 15;11(3).
21.Exp Gerontol. 2006 Feb;41(2):130-40.
22. Pharmacologyonline. 2009;1:817-25.